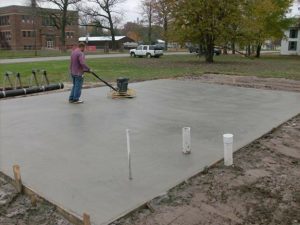 New Concrete Slab Collinsville IL
Is it high time you started that addition to your home or business in Collinsville, Maryville, Troy or the surrounding areas? Collinsville Concrete Company can help you with your concrete addition regardless of the size or scope of your project.
Collinsville Concrete Company handles professional installation of concrete driveways, foundations and much more. Whether you need concrete poured for a new parking lot, carport, garage, or something else, we can help!
At Collinsville Concrete Company we take pride in the fact that we're the #1 concrete contractor in the Metro East. We understand that our business is built on reputation, and that our reputation is only as good as our last job. That's why when you hire us to handle your new concrete flatwork or concrete addition, we will complete your project according to the absolute highest standards of quality done right and on time.
Collinsville Concrete Company utilizes the very best state of the art equipment and our crews operate according to our high standards of quality from the foreman to the laborers.
If you're in need of a concrete addition in Glen Carbon, Edwardsville, Pontoon Beach, Caseyville or the surrounding areas in the Metro East, please contact us today for a Free Quote. We look forward to serving you!